Next I headed to New York, from where I was going to go to Philadelphia to do the second of my mokume workshops, however that had been cancelled also, and so I had to spend about 3 hours on the phone to the airlines, & rearrange my entire schedule in order to do the workshop that was definitely going ahead in Kansas City, Missouri.
So there I was in NewYork. Lucky for me I was there the week that SOFA NY craft and design fair was happening. I was able to see stands from some of the east coast's contemporary jewellery galleries and dealers such as Sienna Gallery, Ornamentum, Aaron Faber, Charon Kransen, & Gallery Loupe, most of whom were interstate and I would not have been able to visit in person. A number of the dealers actually had some of the very same pieces that I had already seen in Munich at Schmuck, such as Ornamentum who were showing Ruudt Peter's Corpuus series and Sienna gallery who had some of Carina Chitsaz-Shoshtary's beautiful graffiti pieces. I also caught the end of a talk by Georg Dobler, which was interesting but more like a show and tell about his practice. He did make a comment about how he was using beetles and insects in his work way before 'other people', which sounded like a veiled reference to Marta Mattson to me.
Perhaps more interesting than the jewellery at SOFA, was the glass. There was some amazing stuff particularly from Toland Sand and Paul Stankard. Stankard's work at first looks like fairly traditional floral arrangements in glass bubbles, but then on closer inspection you realise that all the flowers, bees and plants inside the glass globes are also made of glass.
I also loved Matt Eskuche's Quickie-mart deco, which was a collection of take away drink containers executed in chromed glass.
Toland Sand makes these intersecting circular and geometrical glass shapes with grids of laminated iridescent and dichroic glass inside. From one angle they looked fairly nice, but when they rotated on their bases and the light hit the internal planes of glass in a different way they totally came alive, it was stunning. Even though all who know me know I am partial to a bit of sparkly crystal iridescence, I think anyone would have been impressed. And I am going to post this picture because the dealer said I could take it and the shots on his website don't really show the way the light danced off the interior planes. Sorry Toland, love your work.
New York is crammed full of amazing museums & galleries, so here's a shot by shot replay of the highlights.
Whitney Biennial
– included the work of Forrest Bess who tried to make himself a hermaphrodite by doing self surgery on his penis.
The Metropolitan Museum of Art
– Frank Lloyd Wright room
– Georgia O'Keefe paintings, I have become a fan
– pre-Columbian gold; incredible huge nose ornaments & earspools
– Egyptian jewellery & reconstructed wig with gold ornaments

Ancient Greek glass ring c. 300BC, clear glass has become iridescent over time!

Pair of eyes from an ancient Greek statue, bronze, marble, quartz & obsidian, c. 500BC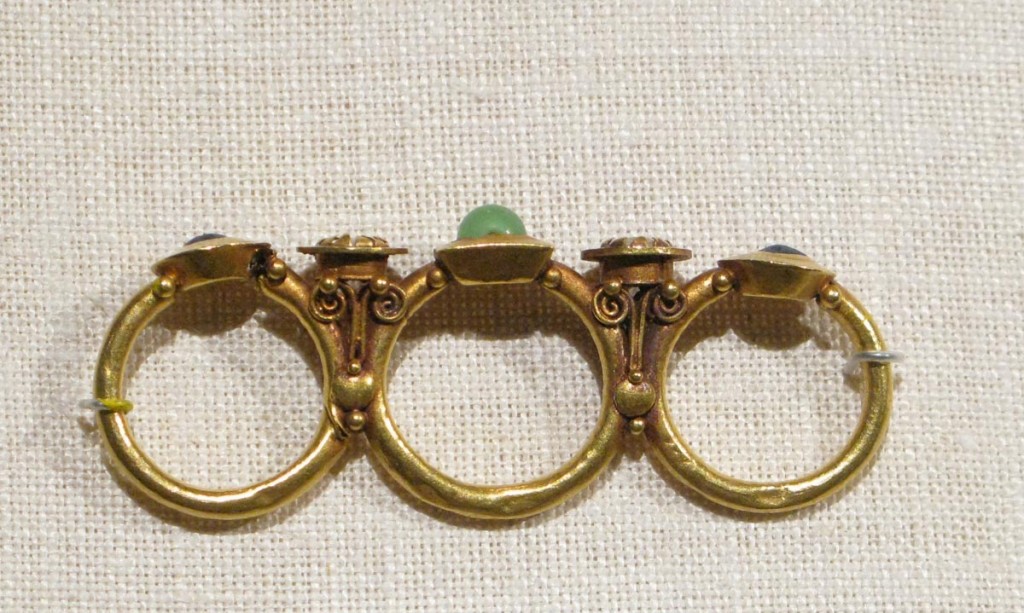 Ancient Roman knuckle duster bling triple ring, gold, pearls & glass, c. 400AD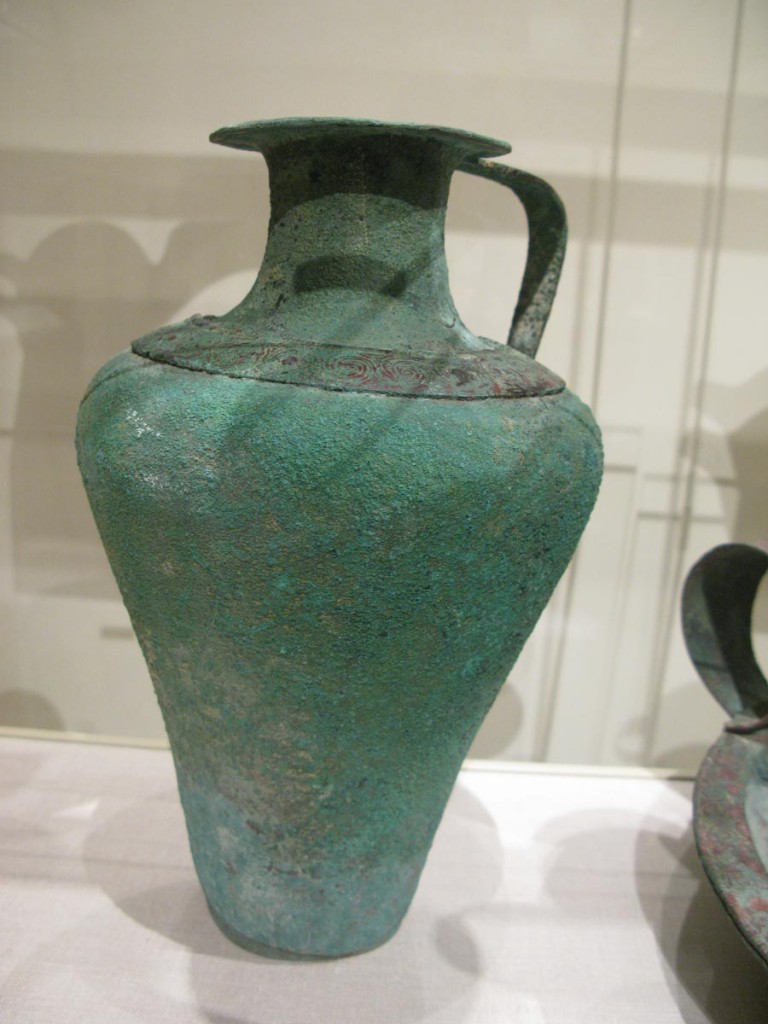 What 3500 years of patination on bronze looks like, Minoan c. 1600BC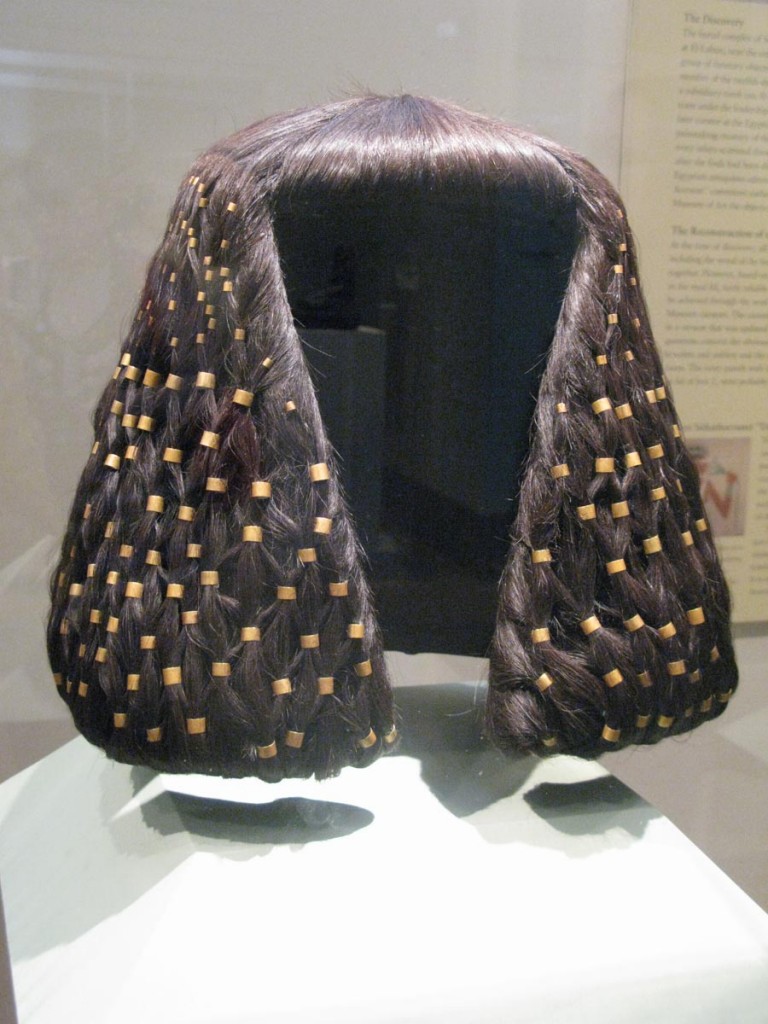 Eygyptian weave bling, reconstructed wig with gold wig ornaments from c. 1800BC

Hammered gold Peruvian Vicus nose ornament, 2nd-6th C, about 10cm wide.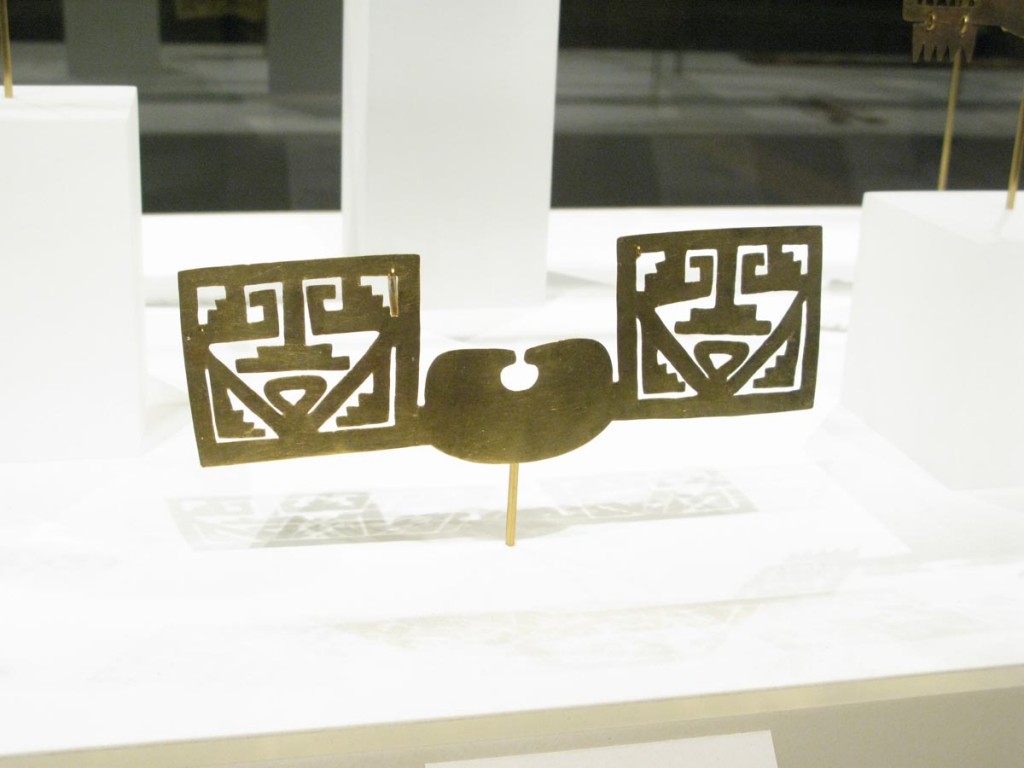 Pre-Columbian nose ornament about 25cm wide.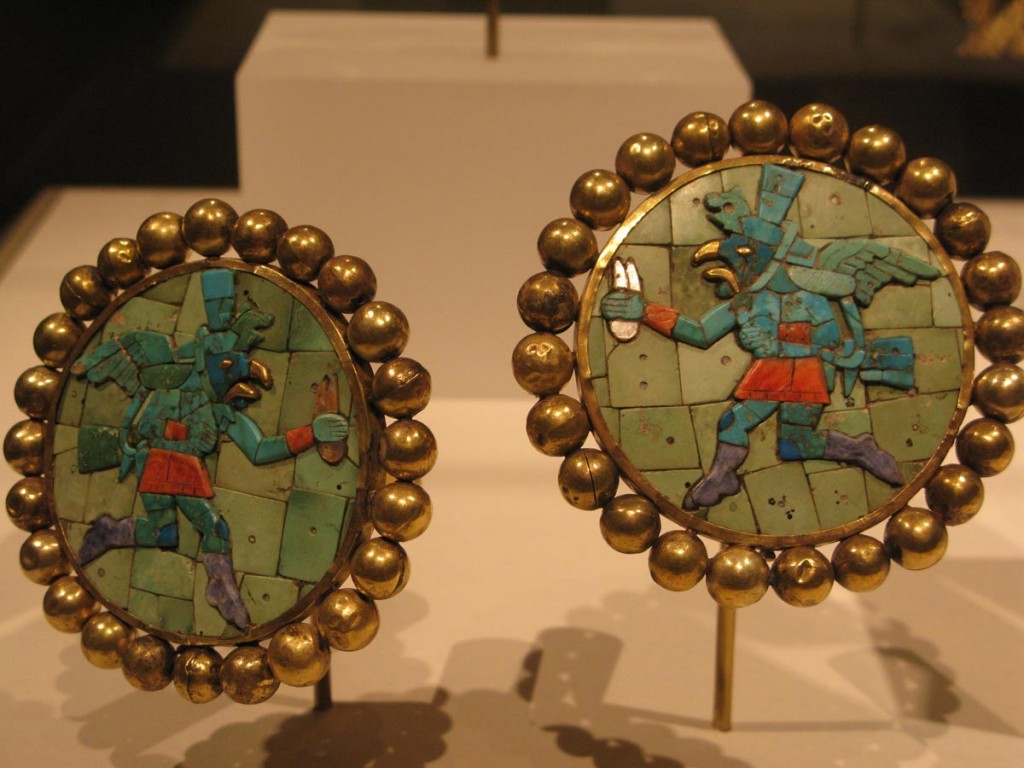 Peruvian Moche inlaid mosaic ear flares, hammered gold, turquoise, sodalite & shell, c. 3rd-7th C. About 10cm diameter.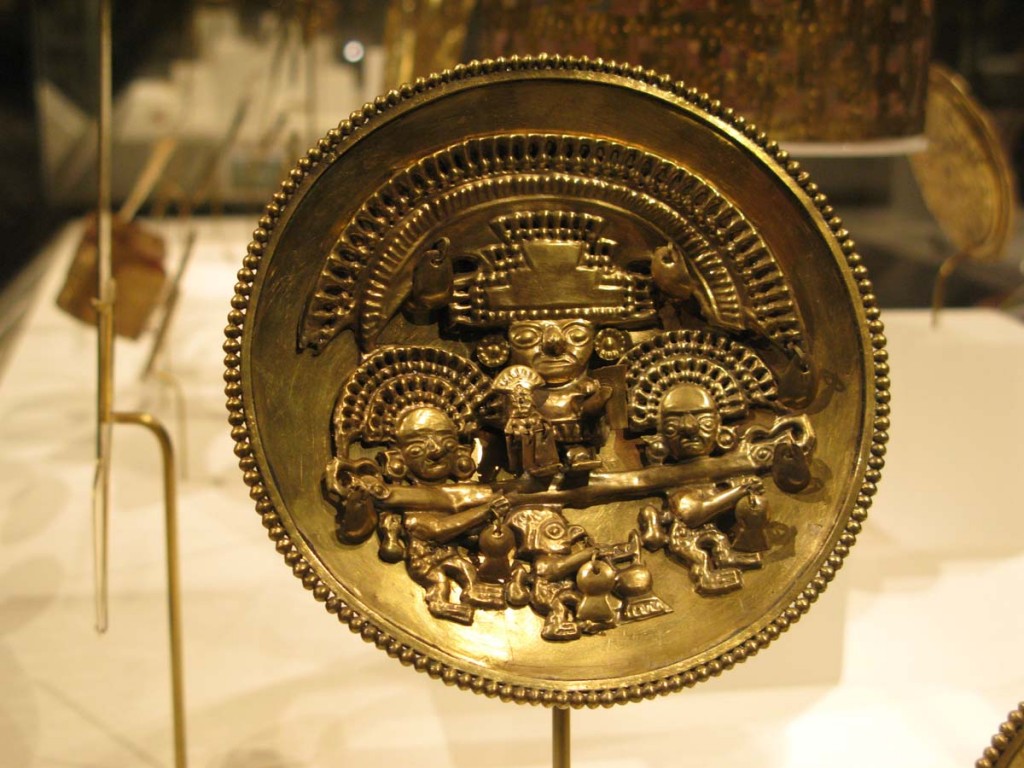 Peruvian Chimu earflares, hammered gold alloy, c. 12th-15th C. The scene is of a lord with a magnificent headdress on a litter which also has dangles that would move with the wearer. These are about 12cm in diameter, and were worn with the tubular part stuck through stretched ear lobes.

Columbian Yotoco hammered gold ear spools, c. 1st – 7th C. These are about 7cm diameter. They were worn like this: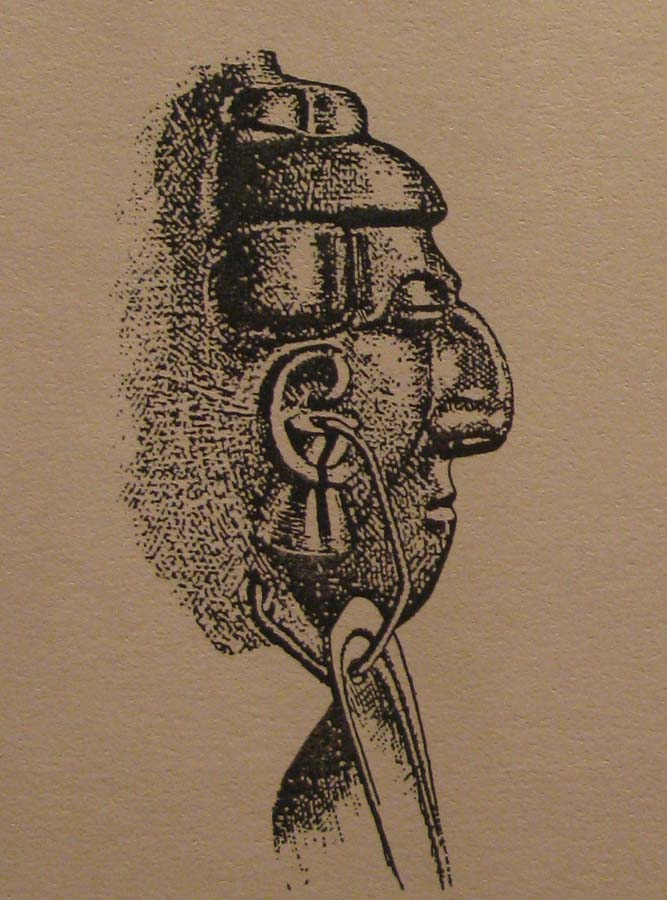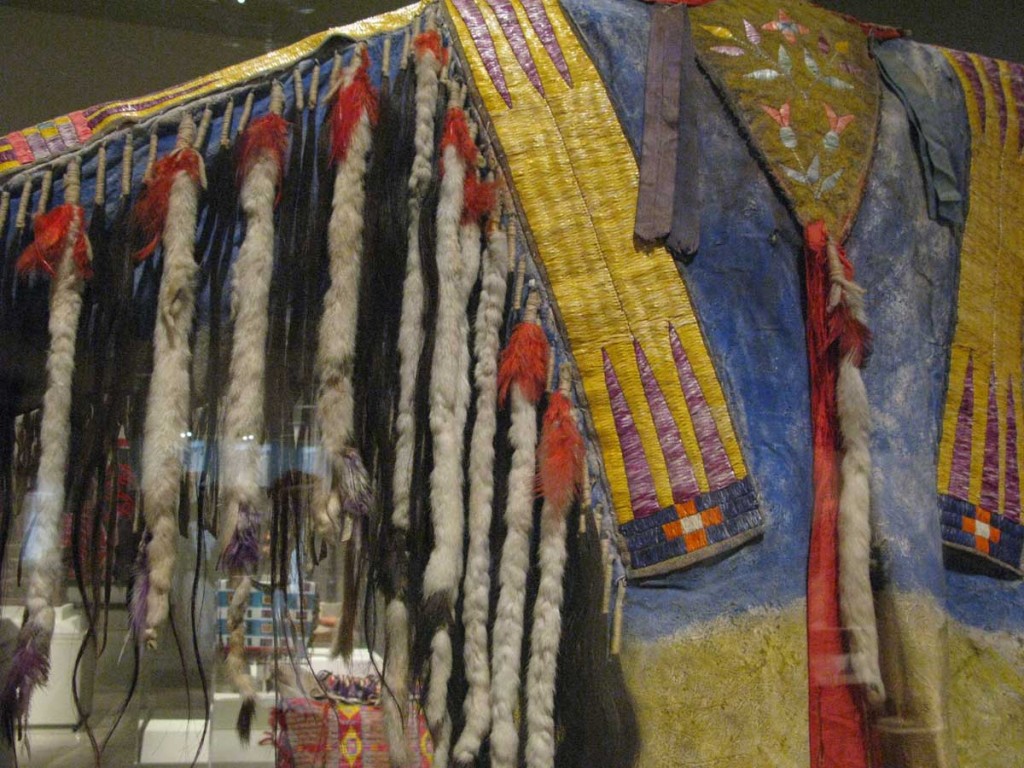 North Dakota American Indian leadership shirt, tanned hide, paint, porcupine quills, human hair, ermine, feathers, silk ribbon c. 1860


'my parka is cooler than your parka' – Alaskan Aleut dress parka, gutskin, auklet beaks, feathers, c. 1900

Museum of Natural History
– gem hall which was the best one I've seen yet, kicked the pants off the one in the London Museum of Natural History.
– giant 20 tonne meteorites with supports that go down 3 stories to the foundations
– Northwest American Indian section, including Tlingit weavings
– pre-Columbian section including giant Olmec head
– South American & Amazonian tribal body ornaments, particularly feathered, furred, clawed & quilled items
– hello dioramas!
– giant ancient tree trunk with rings that date back to 500AD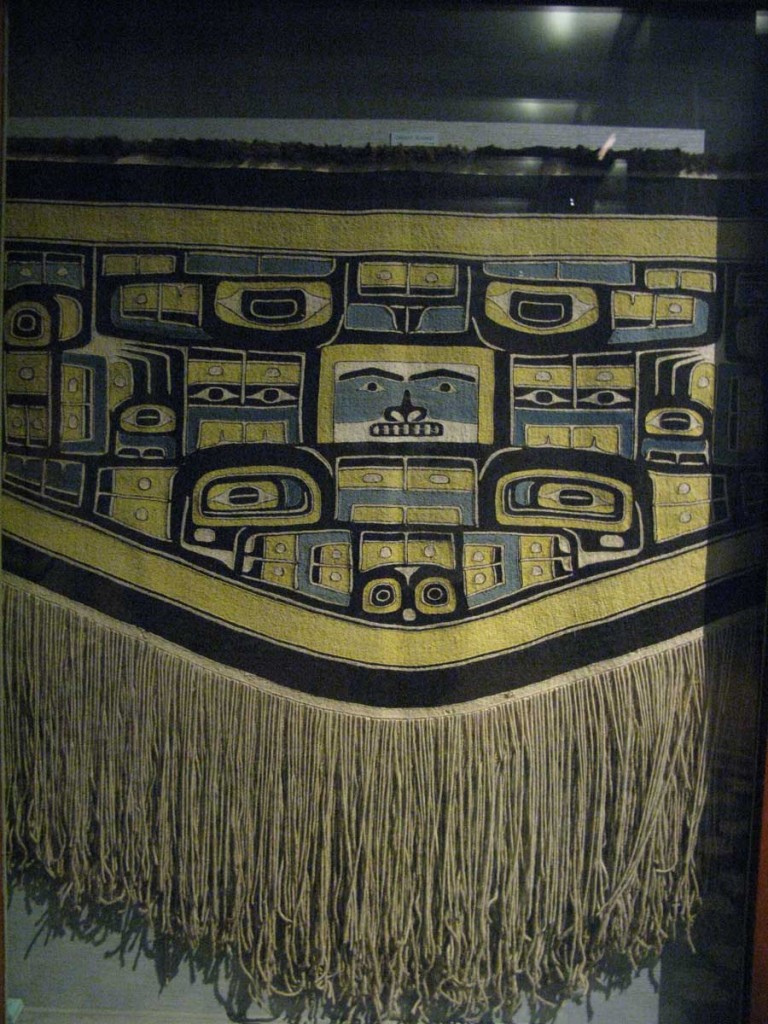 North American Indian Tlingit Chilkat blanket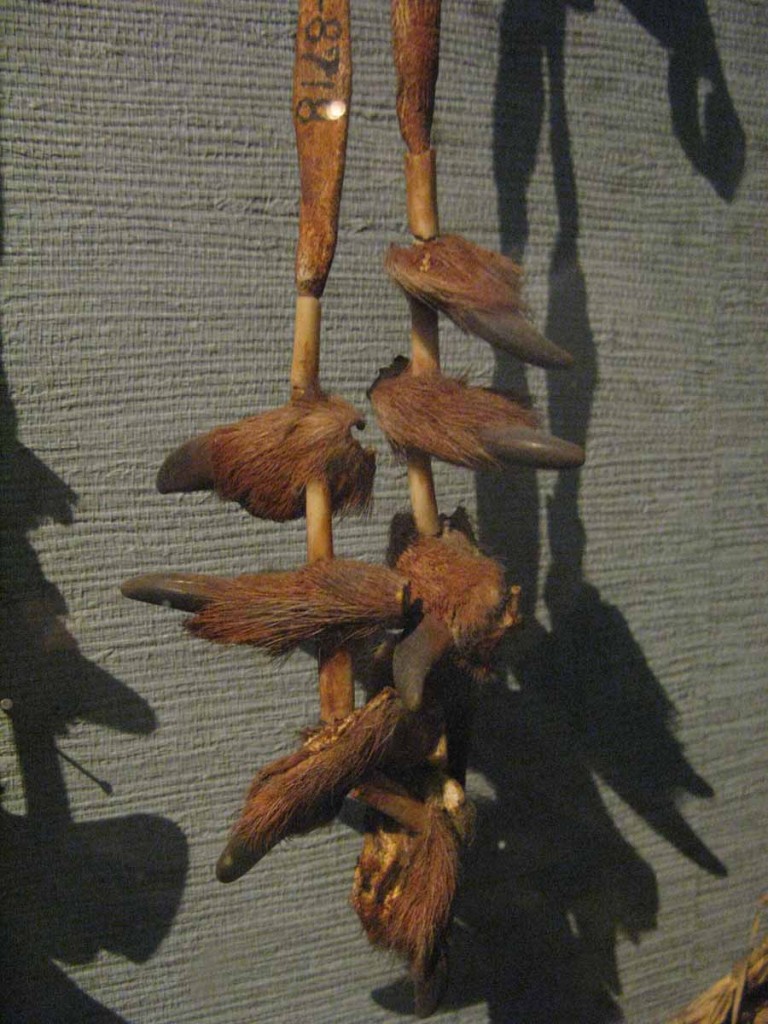 Northwest American Indian necklace with grizzly bear claws

Pre-Columbian gold nose ornament with danglies, about 25cm wide, Nariño region, Columbia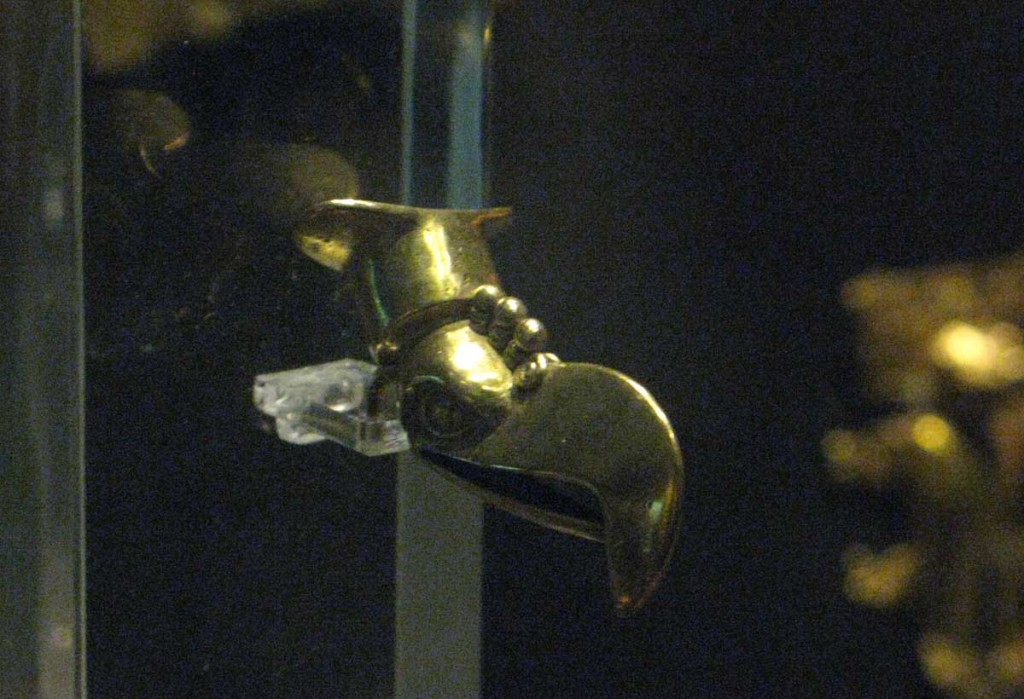 Mixtec gold labret (lip plug

Amazonian Aguaruna ornament with beetle wings and toucan feathers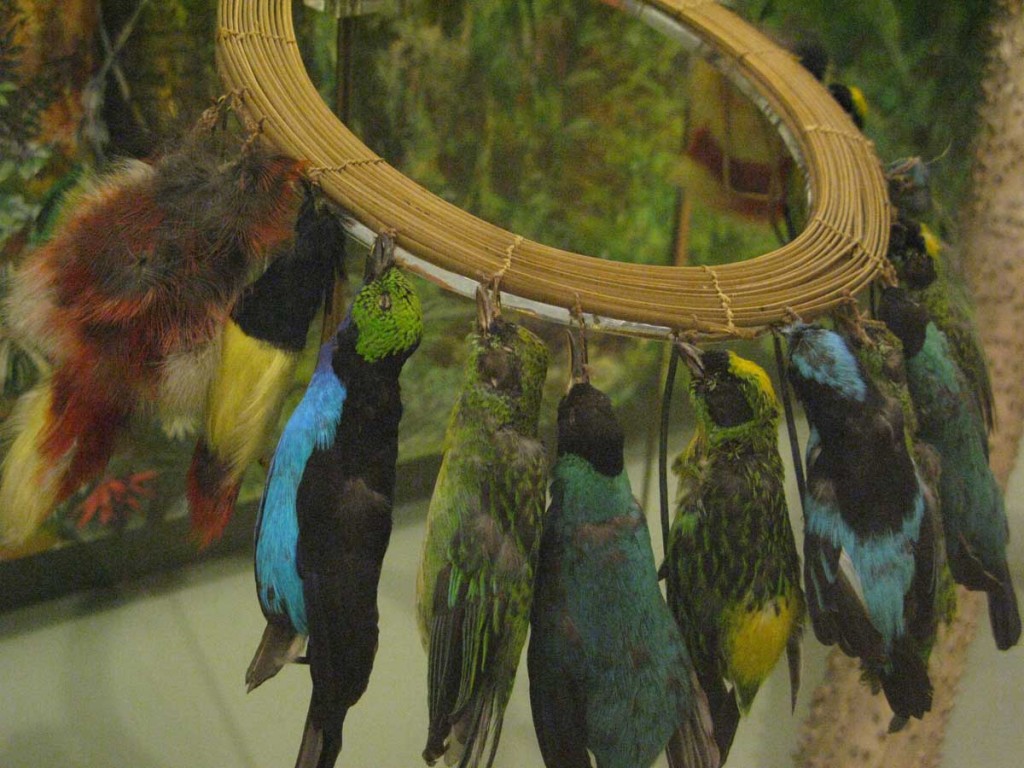 Amazonian Jivaro headdress with whole honeycreeper and tanager bird skins

Amazonian Urubú–Kaapor necklace of yellow toucan, turquoise tanager, purple cotinga and red macaw feathers.

Argentinian Chaco Pilagá women's boxing knuckleduster with sting ray spines

Amazonian feathered ear flares with human hair, the ones to the right have tapir teeth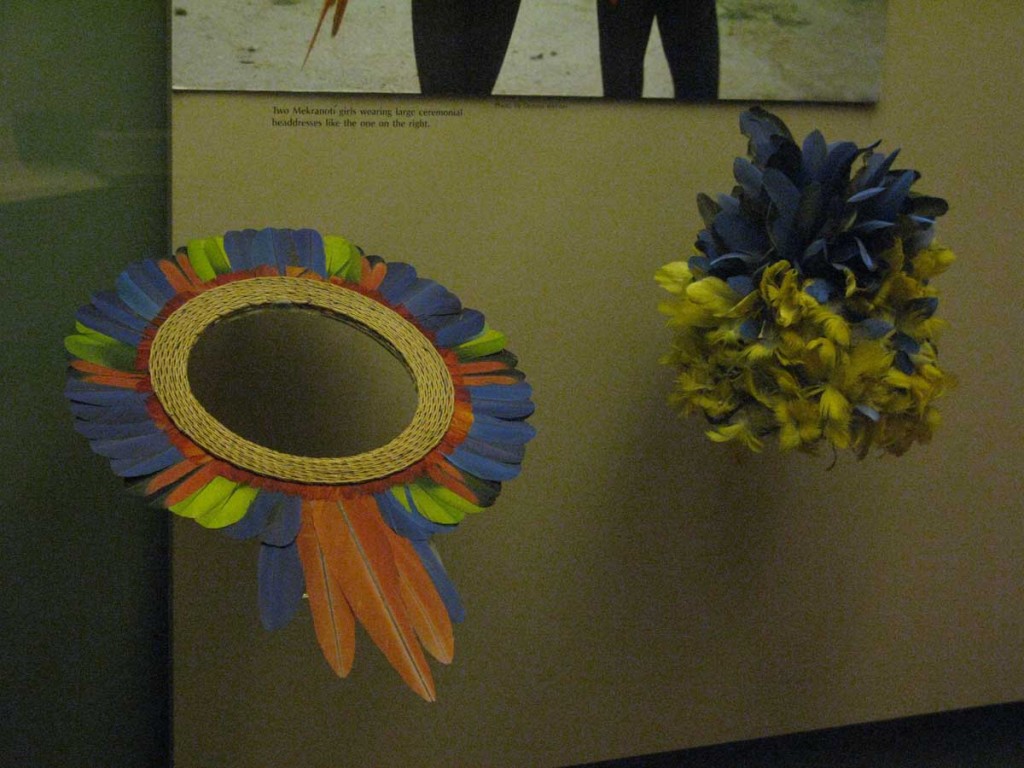 Amazonian feathered neck ring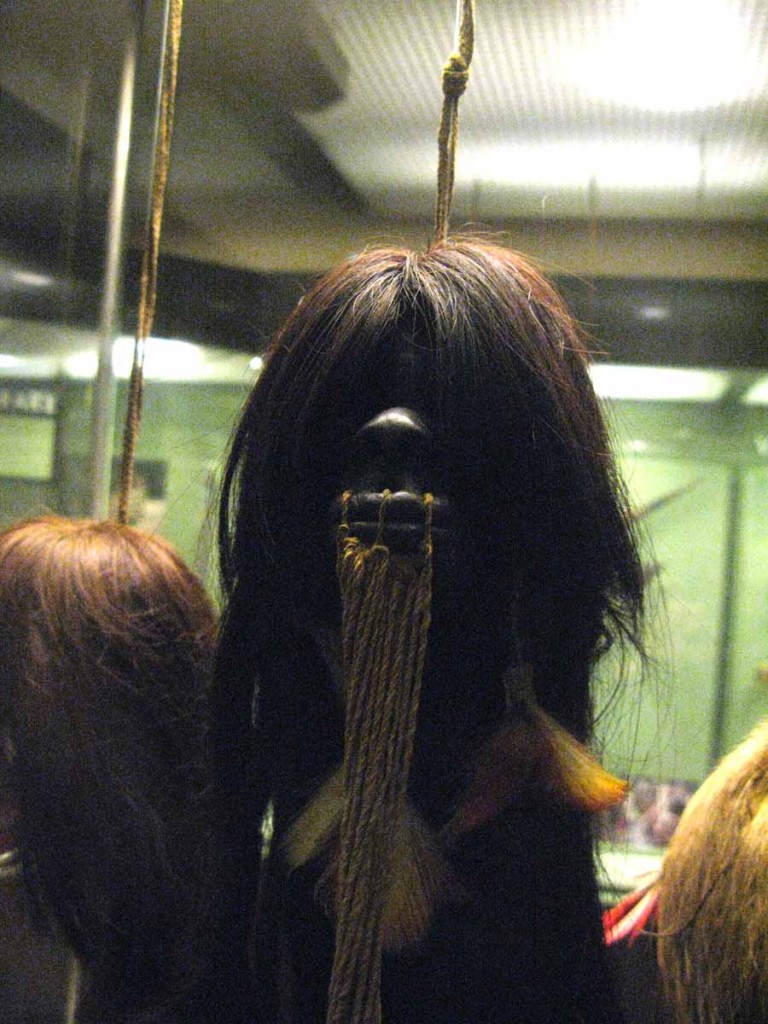 Amazonian shrunken head!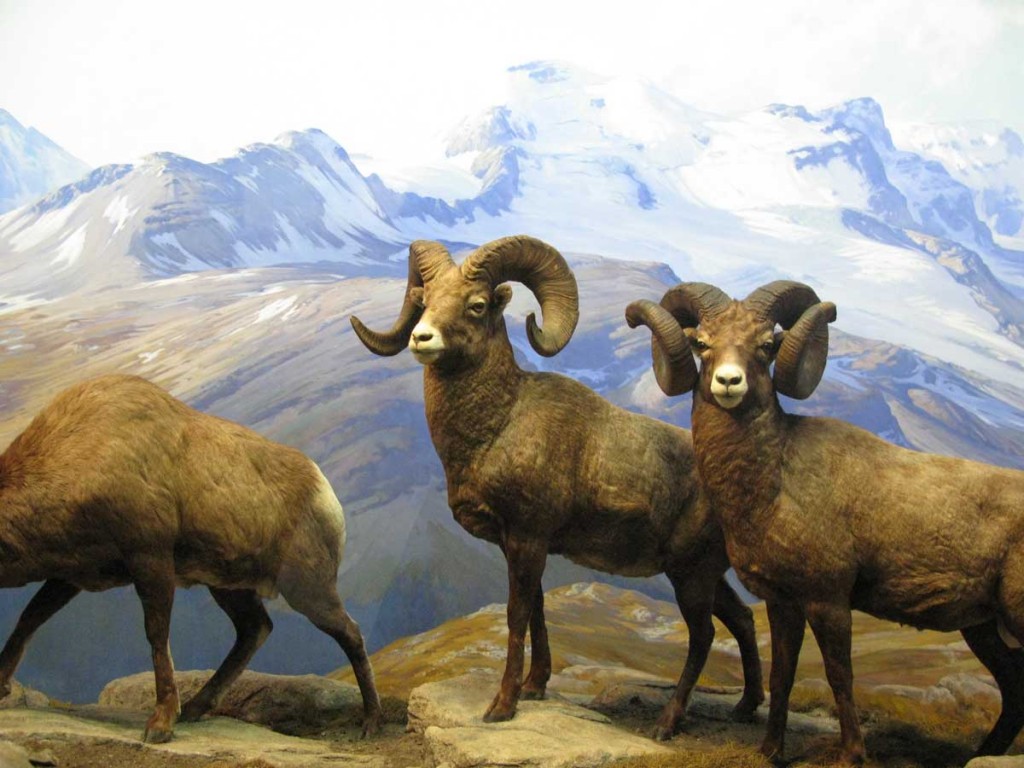 Big horn sheep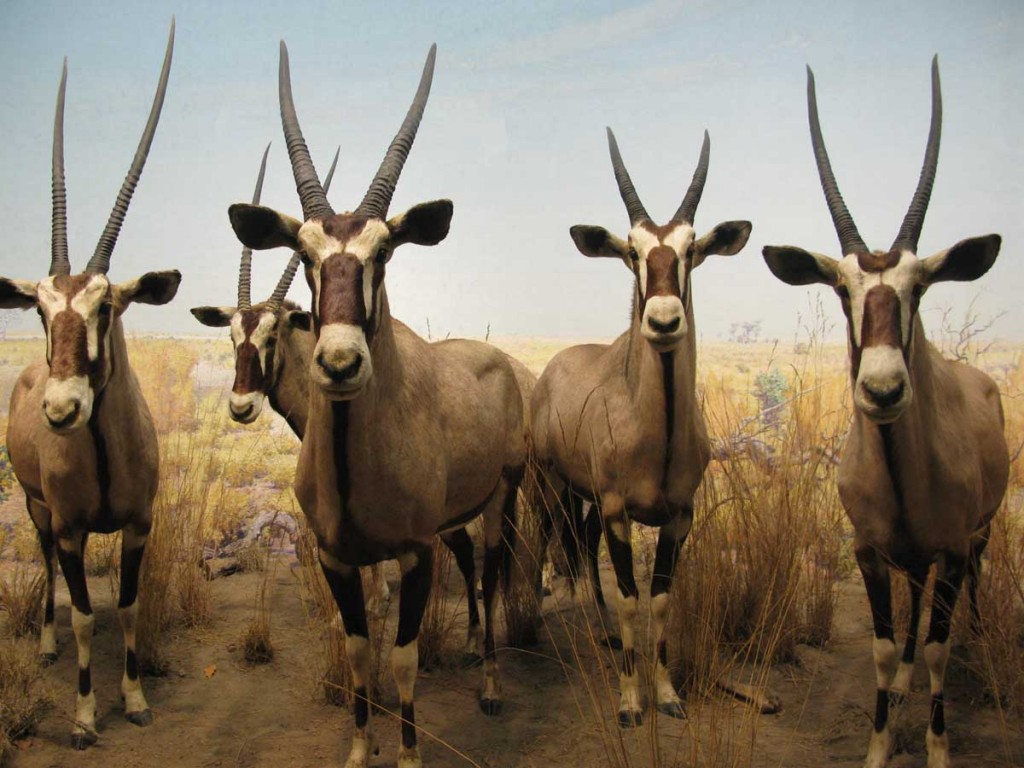 Hello we are large goats

Snow cat is coming!
Museum of Modern Art
– design section, especially the bent plywood. Mmmmmm plywood.
– Some of my favourite works ever – James Rosenquist's F111, Henri Rousseau's The Sleeping Gypsy, Dali's The Persistence of Memory, Meret Oppenheim's Object (the fur covered teacup & spoon), and Andrew Wyeth's Christina's World.
Museum of Art and Design
– saw their temporary exhibitions: contemporary glass and works made with dust and/or dirt
–  good Contemporary jewellery permanent collection, lots of drawers to look in.
PS1
– MoMA's venue for contemporary art in Queens
– irreverent work of Darren Bader particularly his rooms with live cats and chicken and beef burrito
– the incredible immersive 40 track sound installation by Janet Cardiff The Forty Part Motet played on 40 speakers. The recording is of the renowned Tallis Scholars performing 16th C Tudor composer Thomas Tallis' 40 part Spem in Alium Nunquam habui.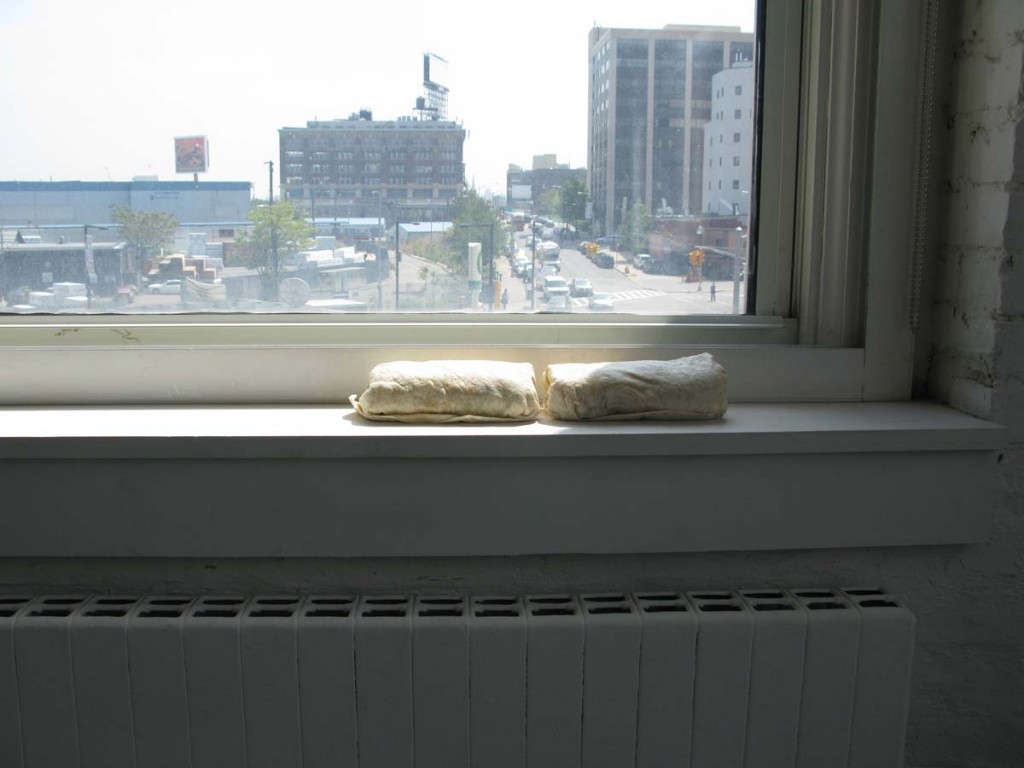 Darren Bader, Chicken and Beef Burrito
While in New York I made several pilgrimages to the former sites of various cultural landmarks; CBGB in the Bowery, Max's Kansas City at Union Square, Gordon Matta Clark's Food in Soho, as well as ones that are still intact like the Chelsea Hotel, the Dakota building, and Coney Island of course.